Find Refined Comfort in the 2022 BMW 5-Series
If you are a fan of speed, performance and class, you're sure to love the base trim of the new BMW 5-Series, the BMW 530i. Whether you are a fan of the BMW brand or not, you are likely aware of its rich history in manufacturing high-quality models throughout the years. The new BMW 530i lives up to this history and promises more modern features both for the interior and exterior, and we're proud to sell it here at Sale BMW. It delivers a level of comfort and performance that only a few models in the market can match. Instead of driving a boring car, you can get yourself the new BMW 530i today and experience an exciting drive here in Kinston.
What's New for 2022?
The 2022 model features slight changes to the previous model. For instance, the new model no longer has a Wi-Fi hotspot, wireless phone charging and remote start feature. Besides this, the new model will not be available in the Dark Graphite Metallic interior trim.
Exterior Design
The new BMW 530i features an exclusive look that indicates elegance and class like all BMW models. On the front end, the 530i comes with distinctive headlights and BMW's prominent front grille. The well-detailed exterior is available in various color options that highlight the model's sharp looks. In addition, the alloy wheels are available near Greenville in multiple varieties, ranging from 18-inch to 20-inch wheels according to your preference.
Engine and Transmission
Different engine options power the 530i according to the trim level you choose. The 530i offers an impressive performance output with a choice between a rear-wheel and all-wheel-drive powertrain. Under the hood is a 2.0-liter turbo-four engine with 248 horsepower and 257 pound-feet of torque. The new model uses an eight-speed automatic transmission for efficient power transmission and effortless acceleration around New Bern. Despite this impressive output, the rear-wheel-drive model offers an excellent fuel economy with 25 mpg in the city and 33 mpg on the highway. On the other hand, the all-wheel-drive model returns 23mpg in the city and 32 mpg on the highway.
..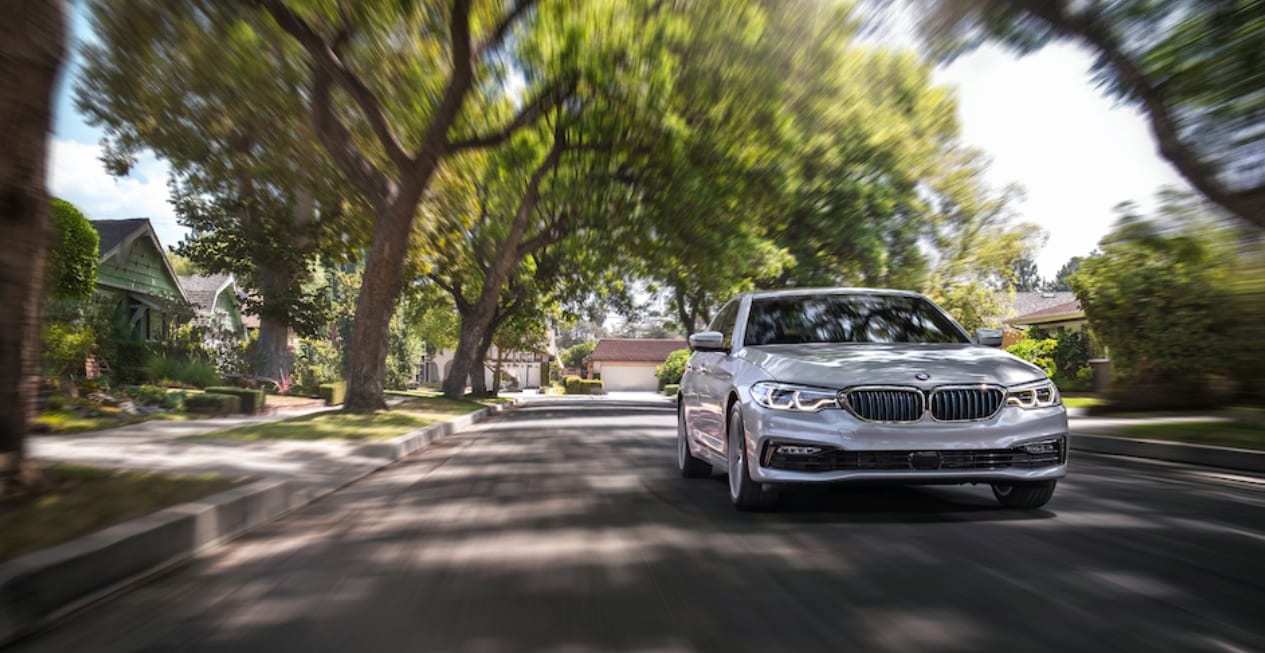 Interior Features
As expected from a BMW model, the new BMW 530i has a cozy interior with many features to enhance safety and convenience. Depending on your selected trim level, you have a choice between leather seats, bucket seats, cloth seats and a moonroof or sunroof. The upgraded interior boasts sufficient seating space with plenty of legroom and headroom for the rear and front passengers. Therefore, the new 530i model is suitable for long trips across Wilson, NC with your family or friends.
Expect to find comfort in the heated seats and a premium infotainment system. Additional features include a hands-free liftgate, power driver seat, memory seats, climate control, cruise control and a heated steering wheel. Standard on every BMW 5-Series a 12.3-inch touch-screen display with a voice command option. In addition, you can control various features easily with hand gestures or using the physical control knobs as you drive through Goldsboro. The high-resolution display supports SiriusXM® satellite radio, navigation, Apple CarPlay®, Android Auto™ and Bluetooth® audio.
Safety
As you drive at high speeds in the new BMW 530i, you will enjoy maximum safety due to the numerous features it offers. The BMW Standard active driving assistance kit offers automatic high beams, lane departure warning, blind-spot monitoring and automatic emergency braking. Besides, Jacksonville, NC drivers can enjoy a tire pressure monitoring system, stability control, traction control and numerous airbags on the front and rear.
Whether you are looking for power, efficiency or comfort, the new BMW 530i at Sale BMW is the complete package and assures you maximum value for your money. Packed with the latest technology, the new BMW model promises to impress buyers shopping for their next car in Kinston.
   .